Events of National Federations
03.08.2018
PRESS RELEASE
Launching of the "FUTURE FOLK" project and collection
June 20th, 2018
The Palace of Parliament, "Nicolae Bălcescu" Room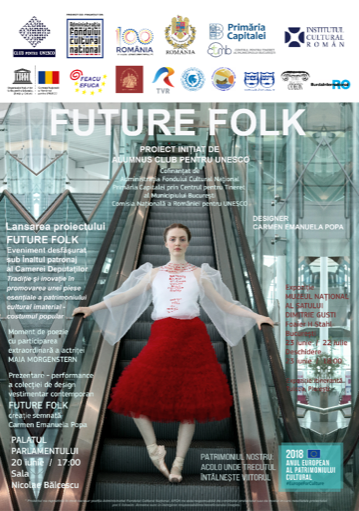 Alumnus Club pentru UNESCO as an initiator organizes on Wednesday, June 20th, the launching event of the Future Folk project, which is cofounded by the Administration of the National Cultural Fund, the Town Hall of Bucharest through the Youth Centre of the City of Bucharest, and the Romanian National Commission for UNESCO. The launching event is organized with the High patronage of the Chamber of Deputies and it benefits of the support of as important partners such as the Parliamentary Group of the National Minorities; Romanian Cultural Institute; the Dimitrie Gusti National Village Museum; the Hellenic Union of Romania; the Lippovan Russians Community of Romania; the European Federation and the Romanian Federation of the Associations, Centres, and Clubs for UNESCO; the Romanian Television – the Other Minorities Section; the State Jewish Theatre; the Odeon Theatre; and the Burda Romania press group.
The organizers propose an original, spectacular launching event, scheduled on June 20th, 2018 at the Palace of Parliament, the "Nicoale Bălcescu" Room, starting from 5 PM. In the opening, actress Maia Morgenstern will perform an extraordinary poetry recital, following which the project initiator and its partners will talk about Future Folk, each of them from the standpoint of their institution. This event will be hosted by Mr. Dragoş Gabriel Zisopol, the quaestor of the Chamber of Deputies, the president of the Hellenic Union of Romania, while Mrs. Daniela Popescu, the president of Alumnus Club pentru UNESCO, will be the moderator. The designer Carmen Emanuela Popa will finally launch the collection of clothing design especially created for this project by means of a performance presentation. 
The Future Folk initiative generically aims at revitalizing and promoting the Romanian intangible cultural heritage while emphasizing an essential element of it - the traditional costume - through contemporary design. Not only the Romanian costume, but also the traditional costumes specific for the national minorities in all the areas of Romania. 
Diversity is an endless resource of innovation and creativity, as well as progress, in a society in which the dialogue among ethnic groups and cultures is a real one – this is the message of our project. The clothing design collection created by Carmen Emanuela Popa, an original avant-garde cultural product, is itself an invitation to communication, understanding, and solidarity among people. 
The Future Folk project runs from February 1st until September 20th, 2018.