Events of EFUCA
On September 21, 2021, the Republican Forum of UNESCO Clubs "Making the world a better place!" was held in Minsk in the Dipservice Hall.
The event was organized as part of the celebration of the 30th anniversary of the Belarusian Association of UNESCO Clubs, the 40th anniversary of WFUCA and the 20th anniversary of EFUCA, the 75th anniversary of UNESCO and the International Day of Peace, which in 2021 is held under the motto "Recovering better".
The Forum was attended by 190 people – representatives of UNESCO clubs from 24 cities of Belarus, veterans of the UNESCO club movement, experts, partners, honorary guests.
The Forum program consisted of several thematic blocks, including interactive work on planning the work of UNESCO clubs in the field of localization of the SDGs in the regions, children's plein-air, an action with the launch of peace doves, solemn events, awarding honored figures of the organization and partners with commendations, certificates of honor and badges.
Dzmitry Subtselny, Chairman of the Belarusian Association of UNESCO Clubs, Vice-President of the World and European Federations of UNESCO Clubs, Centers and Associations, member of the National Commission of the Republic of Belarus for UNESCO, addressed the participants of the Forum with a welcoming speech.
The honorary guests and experts on the localization of the SDGs were:
·         UN Resident Coordinator in Belarus Joanna Kazana-Wisniowiecki;
·         Deputy Representative of UNICEF in Belarus Gabriella Akimova.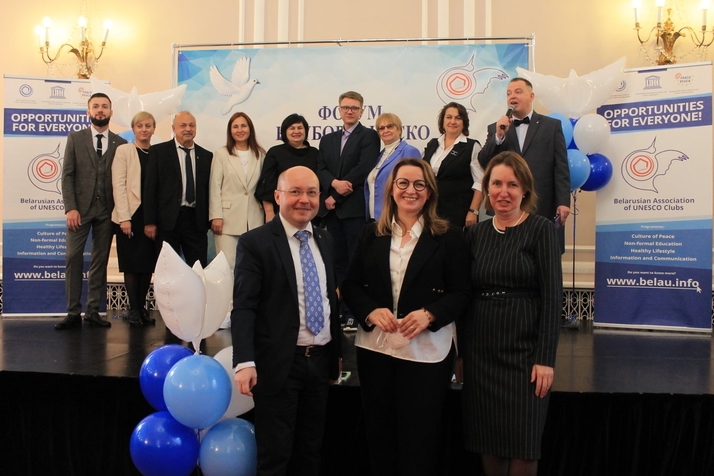 The honored guests opened the Forum, worked in 6 thematic sections with the leaders of UNESCO clubs and teachers in the following areas:
·         Leadership and development of UNESCO Clubs;
·         Localization of the Sustainable Development Goals;
·         Health and well-being;
·         Historical, cultural and natural heritage;
·         Charity, inclusion and volunteering;
·         Culture of peace and international cooperation.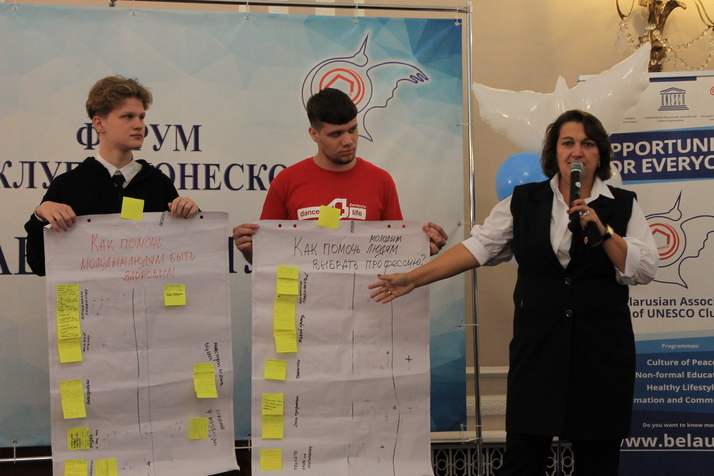 The Forum ended with a joint performance of the Anthem of the meetings of UNESCO clubs and a photo session.
The Belarusian Association of UNESCO Clubs expresses its gratitude to all employees of the organization's Secretariat, Board members, volunteers, partners, and the Dance4life Belarus team for their help in organizing the Forum!